What is a Fragrance Reading?
This is a fun, informative often spiritually rewarding reading for a private treat or a group adventure, depending on how brave you are (or how much you value your secrets)!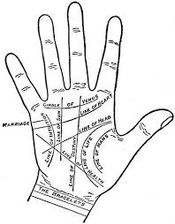 It is a combination of a hand reading and my psychic intuition resulting in formulating a fragrance just for you. You receive the hand reading - a concise character analysis - and 1/6 oz bottle of fragrance with your reading.
Some of the resulting fragrances are healing, some comforting, some adventurous or (I've been told) downright sexy.
You are welcome to email me for an appointment. 
What is Palmistry or Cheiromancy?
Palmistry or Cheiromancy (also spelled Chiromancy) can trace its roots back to Chinese Yijing (I Ching), India in (Hindu) Astrology (known in Sanskrit as Jyotish) and Roma (gypsy) fortune tellers. From India, the art of palmistry spread to China, Tibet, Egypt, Persiaand to other countries in Europe. From China, palmistry progressed to Greece where Anaxagoras practiced it. However, modern palmists often combine traditional predictive techniques with psychology, holistic healing, and alternative methods of divination.
Cheiromancy consists of the practice of evaluating a person's character by "reading" the lines in the palm and other characteristics, of that person's hand. (excerpt from Wikipedia "Palmistry").
I do not consider myself a "palm reader" because my study includes the whole hand, front and back, both hands together and separately. I became interested when a friend of mine who was a psychiatric nurse began identifying which incoming patients were most likely to be violent. Although the doctors did not believe it first, they grudgingly came to accept her reading as valid. I have spoken to many groups of women on "Hand Reading for Self-Defense" as part of my ongoing introduction to the scientific aspect of Cheiromancy.
I developed this reading technique, assigning fragrances that might be pleasing or healing to a person based on their personality to promote my pheromone products. It became a fun thing on its own, so I continued it as a separate enterprise.
How Do I Get a Reading?
1. Email me. If you want references, I will supply them.
2. A private face-to-face reading is $65.00 and takes about 45 minutes. A 1/6 oz fragrance is included. If you want more of your personal fragrance, the price of a 1/6 oz fragrance is deducted.
3. Group or couples readings (2 - 6 people) are $55 per person. They are best done gathered around a large table in a well-ventilated area. I prefer not to read more than six at one time.
4. You may reorder your personal fragrance, but offer no guarantees that it will be exact. Use the Almost Skyclad Lovers Brew to reorder or Email me.
5. You can pay for your fragrance and/or reading online with check or credit card.
After your reading...
If you want to order more of your fragrance, another reading or a different kind of reading, email me and we'll discuss your interests and concerns.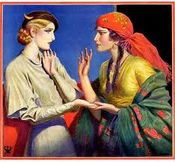 Like most modern students of hand reading, I don't tell fortunes.
I'm not a gypsy palmist - I'm a hand reader. I got that knowledge by studying a lot and practicing for years.
I combine it with my Celtic second sight to give you some insights into yourself and your life--and a lovely essential oil fragrance that is uniquely yours to take home and enjoy.
 Please contact me if you have questions.